Der Studiengang im Detail
ONLINE Business Management - Business and Organizational Psychology (M.Sc.)
Die Hochschule
Institute of Executive Capabilities (IEC)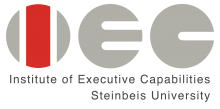 Anschrift:

Ernst-Augustin-Str. 15




12489 Berlin

Telefon:

+49 (0)30 863296710

Email:

Web:
Standorte:

1
Mehr zur Hochschule
Das IEC versteht sich
als Studien- und Entwicklungspartner für Mitarbeiter*innen und Führungskräfte, die sich zeitgemäßes Wissen und entsprechende Handlungskompetenzen aneignen wollen. Wir bieten dir wissenschaftlich und praktisch fundierte Studiengänge und Programme, die eine effektive Vorbereitung auf und einen verantwortungsvollen Umgang mit Arbeits- und Führungsherausforderungen unterstützen.
ONLINE Business Management - Business and Organizational Psychology (M.Sc.)
Informationen über den Studiengang an der Hochschule
Kurzbeschreibung:

Competitive executives and project managers are known for having a good eye for the right employees, which is essential for excellent coping with economic and organizational challenges. This insightful competence that is crucial for the proper teamwork of human resources and organization is taught and practiced in the master's degree course Business Management with the specialization in Business and Organizational Psychology.

This course will help you develop competencies in business psychology, diagnostics, organizational consulting and development, change management, and leadership, which makes it the optimal specialization for organization developers, recruitment consultants, HR-associates, and coaches.

Studieninhalte:

The practice-oriented knowledge given in the Business Management online master's program can be employed in the following business and organizational fields with high demand on the labor market:

Business Management
Marketing
Project Management
Consulting
Coaching
Market Research
Network Management
HR-related fields like Leadership, Recruitment or Human Resource Development

Studienverlauf:

You start your studies whenever you want

Thanks to the unique curricular concept of our program with flexible entry opportunity, you can start your studies any time which suits you the best. All modules and additional sessions are arranged following your start. Direct your studies like never before.

Do it your way now, ONLINE

Once admitted and enrolled, each student receives access to the exclusive learning solutions designed precisely for this Master's degree course to secure academic success. For each module, every student gets detailed specialized materials which should be processed before the LIVE Group Study Sessions take place. No fixed venues and no travel and living expenses needed for that.

Take an exam at your pace whenever it suits you

Integrated in our online learning solution, you are given up to four weeks for further studies and completion of your Transfer Works – a particular form of exams for our Online programs.

Stay supervised on your path to a degree

During insightful and research-oriented group study sessions, you remain assisted throughout your studies. Do you have specific questions? You can address them to the lecturer(s) during the Group Project Sessions.

Your Transfer Project

During your studies, you will be working on a transfer project in the field of your choice. Do precisely what intrigues and motivates you and implement the theory of modules delivered straightforward into practice or your area of work.

Your Final Exam in Master of Science

Stand for your ideas and thoughts. The final exam covers the presentation and defense of your master's thesis.

Abschluss:

Master

Dauer:

4 Semester

Studienbeginn:

Open-enrollment, start ANYTIME

Zulassungsvoraussetzungen der Hochschule

Application to the course is open to anyone who can present a first university degree or an equivalent degree that also have modules in economics, finances, business, research methods, mathematics, and statistics (for at least 35 ECTS credit points). Students who does not fulfill this requirement can apply for a preparation courses at the IEC.

To apply to this Master's program, please submit the following documents:

Signed latest updated CV
Letter of Intent
University Certificate with Transcript of Records (min. Bachelor's degree or equivalent
Proof of English proficiency (IELTS 5,5 / CEFR - B2 / TOEFL Paper-Based 547 / TOEFL Internet-Based 78)

Your academic profile and working experience will be assessed in detail during 2 application interviews. To ensure that your application is processed as quickly as possible, all documents that are originally not in the German or English language should be translated to German or English by a sworn translator and sent in PDF format.

A language proficiency certificate can be submitted upon admission if necessary. However, please note that you cannot be enrolled unless all documents required have been completely submitted.

The application and admission procedures consist of 4 steps which might take up to 2-4 weeks to process:

Submit your application via the online application form or via email. No deadlines to consider.
Participate in 2 (two) application interviews which aim at assessing your profile and capabilities for the course
If admitted, confirm the admission by submitting the completed admission documents by the submission deadline provided
Once the first installment is paid, you are automatically enrolled in the course starting from the date of your choice

You can send these documents to Studentinfo@Steinbeis-IEC.de or via our Online Application Form by clicking the "Apply Now" button below.

We offer this Master's program with an open-enrollment system, which enables you to start your studies any time you like.

Studiengebühren

The total tuition fees are 6,940 EUR, with an additional one-time admission fees of 250 EUR.

The tuition fees cover access to the INSIDER , teaching materials available via the e-learning platform Moodle, access to the online libraries, professional coaching during the student project as well as access to the IEC-Alumni organization.
You can choose the payment option that is most suitable for you - i.e., total payment upfront, semester installment, or monthly installment. There will be no additional installment fees.
Keine Angaben zu Kooperationsunternehmen. Bitte wende dich direkt an die Institution.