Der Studiengang im Detail
Business Management - Markt- und Werbepsychologie (M.Sc.)
Die Hochschule
Institute of Executive Capabilities (IEC)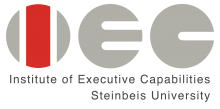 Anschrift:

Ernst-Augustin-Str. 15




12489 Berlin

Telefon:

+49 (0)30 863206279

Email:

Web:
Standorte:

1
Mehr zur Hochschule
Das IEC versteht sich
als Studien- und Entwicklungspartner für Mitarbeiter*innen und Führungskräfte, die sich zeitgemäßes Wissen und entsprechende Handlungskompetenzen aneignen wollen. Wir bieten dir wissenschaftlich und praktisch fundierte Studiengänge und Programme, die eine effektive Vorbereitung auf und einen verantwortungsvollen Umgang mit Arbeits- und Führungsherausforderungen unterstützen.
Business Management - Markt- und Werbepsychologie (M.Sc.)
Informationen über den Studiengang an der Hochschule
Kurzbeschreibung:

Successful managers and project supervisors need practical psychology knowledge to clearly see the relationships between the behaviors of the customers and the market.

Students in the Market and Advertising Psychology specialization will develop an in-depth understanding of both markets and customers as well as the interactions between the two. These can ultimately determine the success of companies in an everchanging marketplace.

The Master of Science is offered by three cooperating institutes of Steinbeis University: SMI, IEC, IOM.

Studieninhalte:

This course offers an intelligent combination of self-study and coaching, intensive in-class sessions, and self-directed project work. .

Your in-class sessions at our university

Efficient and "holiday-friendly" - students go to the Steinbeis study centers for their classes approximately every 4 to 6 weeks (usually from Thursday to Sunday).

Your self-directed study

Do it your way!The students receive detailed information about the upcoming in-class sessions as well as self-study material and tasks from the lecturers. You can work on these materials in your own way in preparation for the seminar.

Your exams during your studies

Always know your stuff. After each in-class session, you will write a transfer paper or take a written exam. A transfer paper is between 5 and 8 pages; an exam lasts 60 minutes.

Your travels during your studies

In addition to SMI's optional trips abroad, you can also travel with the IOM to the world's largest conference for management researchers - the Annual Meeting of the Academy of Management. This conference takes place every year in the first half of August in the USA or Canada. Alternatively, you can organize a stay at a renowned Indian partner university in Bangalore with the IEC.

Studienverlauf:

The knowledge and skills that you acquire from this practice-oriented Master's program Business Management with the specialization in Business & Organizational Psychology can be applied to organizational and economic areas that are becoming increasingly important, for example:

Marketing
Market Research
Project Management
Control of Networks
Consulting
Personnel Management (e.g., Leadership, Personnel, and Organizational Development)

Abschluss:

Master

Dauer:

4 Semester

Studienbeginn:

18.11.2020

Zulassungsvoraussetzungen der Hochschule

Application to the course is open to anyone who can present a first university degree or an equivalent degree that covered courses in economics, mathematics, and statistics (a pre-course can also demonstrate this).

To apply to this Master's program, please submit the following documents:

Latest updated CV
Letter of Intent
High School Certificate
University Certificate and Transcript (min. Bachelor's degree or equivalent)
Proof of German Proficiency (minimum B2 level)

You can send these documents to Studentinfo@Steinbeis-IEC.de or via our Online Application Form by clicking the "Apply Now" button below.

To ensure that your application is processed as quickly as possible, all documents that are originally not in the German or English language should be translated to German or English by a sworn translator and sent in PDF format.

Studiengebühren

The total tuition fees are 21,900 EUR.

The tuition fees cover access to the INSIDER online learning solution, teaching materials available via the e-learning platform Moodle, access to the online libraries, professional coaching during the student project as well as examination fees and the access to IEC-Alumni organization.
Keine Angaben zu Kooperationsunternehmen. Bitte wende dich direkt an die Institution.